Harvest Vineyard Tour & Luncheon - Sunday, Sept. 22nd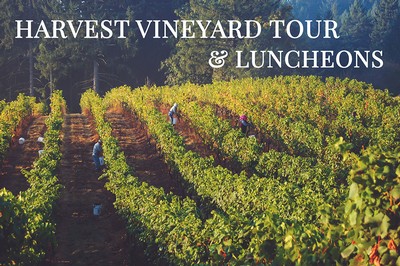 Harvest Vineyard Tour & Luncheon
Spend a Sunday afternoon in September at Lange Estate for a firsthand perspective of harvest at our working winery and vineyard.
We will be hosting a Harvest Vineyard Tour & Luncheon on September 22nd from 11am to 1pm. This guided tour will introduce you to Lange Estate's carefully cultivated and managed LIVE Certified & Salmon Safe vineyard property through the specific lens of our meticulous harvest program.
Follow up the enological tour with a tasting of Lange Estate's portfolio of terroir-focused, hand-crafted varietals - including Pinot Gris, Chardonnay and Pinot Noir. Enjoy your wine with a scrumptious Vintner's Lunch catered by Escudero's Catering.
Reservations are required to participate and space is limited. To ensure a relaxing and intimate experience for our guests, we kindly request that all attendees be at least 21 years of age.
Afternoon Itinerary
11am Meet At Lange Estate
Enjoy A Scenic Vineyard Walk
Sample Grapes Off The Vine
Sip Some Wine
Learn About The Harvest Process
Indulge in our Reserve Wine Tasting paired with a Vintner's Lunch.
To ensure you are able to fully enjoy the vineyard tour, please wear comfortable walking shoes. We may stroll through some uneven ground.
$60 Per Person / $48 for club members
Questions or dietary concerns? Contact lead@langewinery.com for assistance.