Holiday Gift Pack - Estate
Holiday Pack - Estate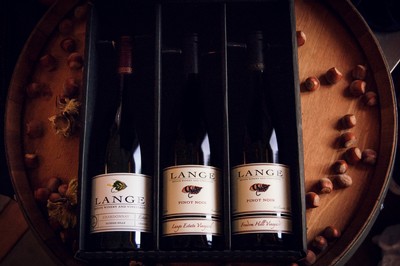 Happy The Holidays with Lange Estate Winery!
"Tis the season" is right around the corner. Shop a few of our favorite collections at a price point for every wine lover. Let us help with simple gifting for friends, family or your professional and corporate clients.
Lange Estate Winery has crafted Holiday Gift Sets that make it easy to Click & Ship. Choose from four different curated 3 bottle packs! Pack Prices include UPS Ground Shipping & UPS Temp-Controlled Ground Shipping.
Each Gift Set will be packed in a sleek Black 3-Bottle Gift Box for perfect presentation to those you are looking to treat with a taste of world-class Oregon wine. Inside, each gift opener will get a vision of Lange Estate with a vineyard view poster.
2015 Lange Estate Chardonnay
2014 Lange Estate Pinot Noir
2014 Freedom Hill Pinot Noir
$225 *includes ground shipping*
Last day to order for delivery by Christmas is December 12th (Last day for temp control Dec 1st) Need it faster? Call the winery at 503-538-6476 x2
*Club Member Discounts and Additional Promos do not apply to Lange Estate's Holiday Gift Sets*
For questions about ordering or to request special shipping needs, contact wineclub@langewinery.com.