Wine Dinner with Loustic Catering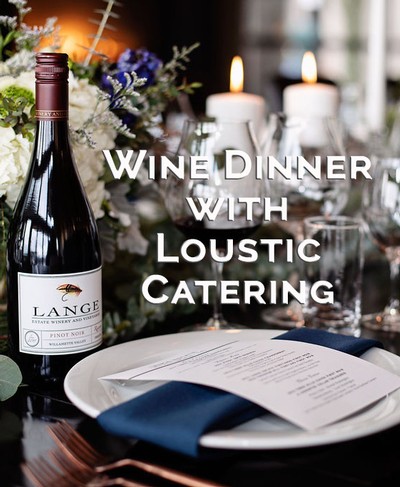 WINE DINNER SERIES - LOUSTIC CATERING - February 15th, 2020 at 5:30 PM
We are excited to collaborate with some of wine country's most celebrated chefs for a sumptuous mid-winter Winemaker's Dinner Series. The series begins in February with favorites Leslie and Daryl Gossack of Loustic Catering—this talented husband and wife duo are the masterminds behind our thoughtful Cru Club Soirée pairings. In March we'll be partnering with talented Chefs Ian Ragsdale and Pascal Chureau of Allium Bistro, followed by an exquisite and locally-sourced menu prepared by Chef Andrew Biggs of Portland's Hunt & Gather in April.
The dinner series will offer guests and Cru Club Members exclusive access to exciting new releases as well as a few surprise pours of some of our library wines. Guests will enjoy the opportunity to meet and dine alongside founders Don and Wendy Lange during each of these memorable feasts!
February 15th, 2020 at 5:30 PM - We're excited to welcome Leslie and Daryl Gossack back to Lange Estate—Chef Daryl's pairings at our annual Soirées have surprised and delighted Grand Cru Club members for four years running. Daryl discovered his passion for food and flair for classical French cuisine while living as an exchange student in France. After returning to the states, he continued to expand his culinary repertoire while attending Horst Mager's Culinary Institute in Portland, Oregon.
From the hors d'oeuvres to the dessert course, this four-course fete is inventive, capturing the soulfulness of French gastronomy while highlighting locally-sourced Pacific Northwest ingredients.
MENU
Hors d'Oeuvres
Chilled Potato Slices with Creme Fraiche and Caviar
Bleugeres (Gougeres made with Bleu Cheese)
Kimchi Deviled Quail Egg on Potato Cakes
Dinner
Oysters Loustic
with Bacon, Shallots, Creme, Parmesan, and Preserved Lemon
Potato Leek Soup with Truffle Oil
Wild Caught Salmon with Blueberry Rose Water Gastrique
with Braised Winter Greens
Pinot Gris Peach Ginger Sorbet
Duck Confit in Shredded Phyllo Cup with Marionberry Demi Glace
with Raclette Stuffed Tomato
Dessert
Chocolate Mousse with Blueberry Lavender Coulis
Please contact Adriane, adriane@langewinery.com, with any food allergy concerns.